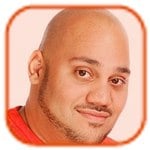 Posted by Andru Edwards Categories: Microsoft, Rumors, Xbox 360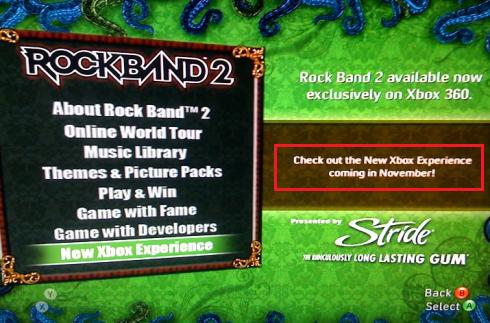 Well, this is an odd piece of news. Apparently, one eagle-eyed gamer realized that release details of the New Xbox Experience dashboard update were staring him right in the face, by way of an advertisement in the current dashboard. As you can see in the image above, in the ad for Rock Band 2, you see the phrase "Check out the New Xbox Experience coming in November!" Okay, cool, but can we view this as accurate? Microsoft always has the last say on when their dashboard updates hit, but they also have final say on how advertising appears within the Xbox ecosystem. Thoughts?
Read More
| Joystiq


Posted by Paul Hamilton Categories: Activision, Music, Rumors
A rumor began circulating yesterday that the full and final track list for Activision's Guitar Hero III was available. The problem with the list was that while it seemed credible it lacked several bands who had previously announced their involvement with the game, notably Atreyu and Velvet Revolver.
We followed up with one of the original sources yesterday and he confirmed that the list was accurate but perhaps not 100% complete, which would leave room for additional songs to be announced closer to the release date or perhaps even kept under wraps until the game ships. In any case, the selection is shaping up nicely with a few unexpected inclusions.
Click to continue reading Expanded Guitar Hero III Track List Found
Read More
| Aeropause


Posted by Chris Pereira Categories: PlayStation 3, Rumors, Xbox 360
They should have just said, "No comment."
Website Digital Spy tried to squeeze an answer out of Konami regarding an issue that's pretty significant to the console wars and (much less importantly) the fanboy wars: is Metal Gear Solid 4 coming to the Xbox 360? While they were unsurprisingly not able to get a straight answer out of Konami, they were told that the rumors are "speculation." That's not a rounding endorsement that the game will be seen on Microsoft's console anytime soon, but it also isn't the typical, "We currently only have plans to bring game X to the PlayStation 3." This is bound to only add fuel to the flames of the already rampant rumors.
While Hideo Kojima has time and time again said that he wants rumble, the game is also being designed specifically for the PS3. But, that still doesn't shoot down the possibility of an Xbox 360 port – my guess is that this is an issue of timed exclusivity. The game will be released on the PS3, and then at a certain point – maybe six months – Snake and company will be released on the 360.
Read More
| Digital Spy

Posted by Michael Cardiff Categories: Adventure, Eidos, PlayStation 2, PSP, Wii
Rumors are floating around these parts about Eidos' remake, Tomb Raider Anniversary, making its way to the Wii in the near future. As a business move, it would seem to make perfect sense for Eidos. Nintendo's new console with next-gen controls and last-gen visuals would seem to be a perfect fit for a port, and translating the game will probably be quite easy, meaning more copies sold for very little extra work. Of course, Eidos could ruin this pretty easily by just tacking on waggle-rific controls. Here's hoping their one of the first 3rd-party companies to get it right and realize that not ALL games have to use the Wiimote. I for one would be perfectly happy to see this game played with the Classic controller.
Tomb Raider: Anniversary Edition is a re-imagining of the original Tomb Raider game featuring updated visuals, an improved Lara model (taken from Legend and enhanced), along with new moves and a few additional surprises. Having had a chance to playtest the game, I can tell you that you that fans of the series won't want to miss it…
How soon's it coming out? Well, unless CrystalD has been secretly working on this title for a while, I think it's safe to guess that the Wii version will trail the PS2 / PSP version (to be released this May).
Update: Looks like it's official (see here). The game will release "this year" and will feature Wii-specific controls. Dang.
Read More
| Wii.Ign.com

Posted by Michael Cardiff Categories: Culture, Nintendo, Rumors, Wii

According to the online version of GameInformer Magazine, Nintendo employees were recently told that the company would be relocating, away from its current Redmond, Washington offices. According to the article:
Employees of Nintendo of America were told on Thursday that they would have to decide by June 1st whether or not they would be willing to relocate or accept a severance package. Our sources indicated these new offices would be opened as early as this Fall.
...
Both San Francisco and New York were pointed at as being the potential targets for new locations.
Personally, I think a move like this would make a lot of sense for the company. Redmond one day looked like it was going to become the next tech hotbed, but it's so dominated by Microsoft these days that it's hard to really make a presence in that area. Plus, the number of third-party publishers located in the bay area is staggering (just look on the case of your most recent game for an address, trust me…), so if Nintendo really is serious about courting third parties more actively, this would definitely give them a more hands-on way to do it. A New York office would also make a lot of sense given that, well, it's New York and they've already got their only US store there.
My guess? IF they do move (and that's a big "if", they've been in Redmond for a long while)... they're probably going to do both. I could see it easily being advantageous for Nintendo to have both an east coast and west coast operations branch. But if they HAVE to choose, my vote is for the SF Bay area. Having Nintendo so close to home would be sweet indeed.
Read More
| GameInformer.com

Posted by Michael Cardiff Categories: Nintendo, Nintendo DS, Rumors
Given that the little-two-screened-handheld that could has been topping the sales charts these days, I don't see why Blockbuster hadn't thought of this earlier… if current rumors prove true, then the video-rental mega-chain will start renting DS games in the near future. The rental price is rumored to be $4.99 for a week, which isn't a terrible deal compared with services like Gamefly. Of course, if their DS selection ends up being anything like what I've seen for their other console selections, Blockbuster might not be your best bet for getting the latest, hottest games.
Blockbuster stopped renting GBA carts years ago, due to problems with renters removing the chips inside the cartridges and replacing them with less desirable games. However, this seems like something that should be easy enough to test these days (and charge to the credit card of the offender!).
Read More
| Play-Nintendo.com

Posted by Michael Cardiff Categories: Nintendo, Nintendo DS, Rumors, Wii
According to a report on Bloomberg that's getting a lot of attention, Nintendo is working on at least 45 titles for the Wii (we're assuming first-party?), and 79 titles for the DS. That's a number that sounds pretty darn exciting.
Still, other than that, the report is VERY short on details. For instance, are these titles that are slated for release, or are they along the lines of tech demos and test concepts? Are they first-party titles, or does the count include properties being developed by second-party firms, under the auspices of Nintendo? When will these games be released… is this the one-year outlook for Nintendo first-party titles, or are they looking further ahead? And most importantly of all, why the heck hasn't Nintendo announced some titles and/or concepts for these games in order to drum up a little excitement?
You'll excuse us if we don't get too excited just yet… after all, I was pretty excited after hearing about Sadness, and look what that's gotten me.
Read More
| Bloomberg.com

Posted by Michael Cardiff Categories: Release Dates, Rumors, Xbox 360, Xbox Live, Xbox Live Arcade, Xbox Live Marketplace
Our papa-site Gear Live pointed out this video from MyGamerCard.net that was supposedly leaked from Gamespot.com. This one is looking real legit, and boasts some exciting features:

* Ability to add up to 600 Windows Live Messenger contacts to your Friends List.
* Text chat with up to 6 Live Messenger contacts at once during games or movies.
* The Marketplace will be getting its own Dashboard Blade.
* The Marketplace will be skinned independently of the Dashboard, for special events.
* The Marketplace will be getting a new, easier-to-navigate remake.
* Achievement Pop-ups will now display how many points and which Achievement you have gained.
* Low-power downloading (fans off) and auto-off after finishing queued downloads.
* View partially downloaded video files.
Much like Gear Live, we're still wondering "where the browser at?", but it's looking like Microsoft is still doing a great job of beefing up their already impressive online features.
Read More
| Gear Live

Posted by Christopher Sasaki Categories: Action, Internet, PlayStation 3
The nature of the Warhawk release for the PlayStation 3 has been elusive, to say the least. 1up was one of the first sites to report that the game would be heading to the PlayStation Network, and would not be a retail disc. Now, according to information they received from Sony Computer Entertainment America, the game is actually going to be heading to both Blu-Ray and the PlayStation Network. No clarification was given, but 1up speculates that there will be content differences between the formats, with the possibility of additional downloadable content to even out the releases. Even with this, though, it would see that either way would result in a less than satisfactory experience for each format. Either the Blu-Ray disc ends up being vastly underutilized, or the end user finds himself downloading tons and tons of content to keep up with their physical media brethren. It will be interesting to see how Sony handles this, if the rumors are true.
Read More
| 1up

Posted by Michael Cardiff Categories: Accessories, Electronic Arts, Music, Rumors, Xbox 360
A few sites out there were reporting yesterday about supposed problems with the whammy bar on the Xbox 360 Guitar Hero "Xplorer" controller. Today, a rep from RedOctane responded to these rumors, stating that they were categorically untrue and had not heard of any systematic problems with the controller… they offered the following up for users who are having problems with the guitar.
"We're currently in the process of having our internal QA and production teams look into this possible issue, and are working to quickly isolate this if there is one," he stated. "In the meantime, we suggest our fans try to replug in their guitars without holding down any buttons or the whammy bar, and that may help immediately resolve the issue."
I wouldn't be surprised if this "fixed" a lot of the problems folks have been seeing - I'm sure there are more than a few gamers out there that may have accidentally mis-zeroed the controls. Now just remember to put the disc in shiny-side down too, OK?
Read More
| Next Generation.biz

© Gear Live Media, LLC. 2007 – User-posted content, unless source is quoted, is licensed under a Creative Commons Public Domain License. Gear Live graphics, logos, designs, page headers, button icons, videos, articles, blogs, forums, scripts and other service names are the trademarks of Gear Live Inc.