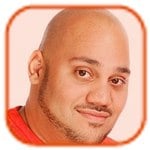 Posted by Andru Edwards Categories: Downloadable Content, Fighting, PlayStation 3, PlayStation Network, Sports, THQ, Xbox 360, Xbox Live Marketplace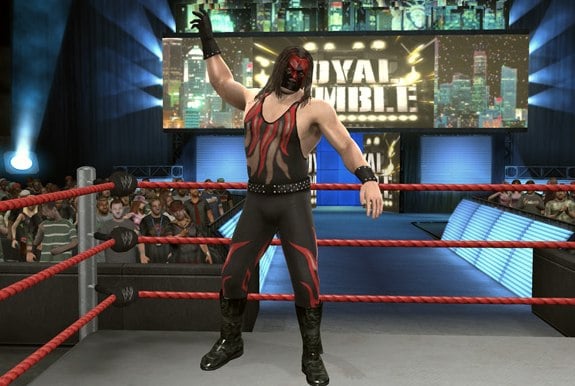 For fans of the WWE wrestling game series, Smackdown vs. Raw 2009 is set to get some DLC, a first for the series if we aren't mistaken. You'll be able to download a few new
wrestlers
sports entertainers, plus you'll finally get to dress Chris Jericho up in his new spandex attire that he has been sporting for the last few months. For those wondering, no, Randy Orton's new hideous tattoos aren't included, thankfully. Here's what you get if you are on the Xbox 360, for 400 Microsoft Points:
Ted DiBiase Jr.
Charlie Haas
Evan Bourne
Alternate outfit for Chris Jericho
But guess what? If you are on the Playstation 3, you get some extra goodness. For $4.99, you get all of the above, plus:
A new un-named Superstar
Masked alternative outfit for Kane
Christmas-themed attire for Kelly Kelly and Maria (a bit late on that one)
Alternate red and black outfit for Edge
Alternate purple outfit for MVP
Read More
| WWE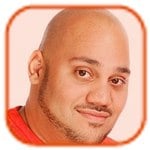 Posted by Andru Edwards Categories: CAPCOM, Fighting, PlayStation 3, Release Dates, Xbox 360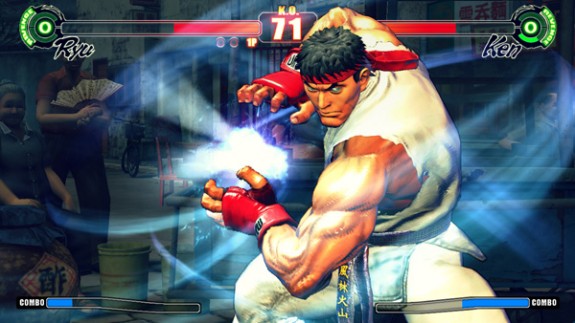 We hope you guys are as ready as we are for this one, as Capcom has finally announced the release date for Street Fighter IV. You'll be able to pick up your copy for the Xbox 360 or Playstation 3 on February 17th here in North America, and February 20th if you are in Europe. We've been waiting for this game for the better part of a decade, so you can bet we're stoked.
We also find it mildly amusing that in the announcement, Capcom urges people to pick up Street Fighter II Turbo HD Remix, which is supposed to be available sometime this month, and yet, has no definitive release date to speak of.
Jump down to check out our Street Fighter IV preview video.
Click to continue reading Ha-freaking-doken: Street Fighter IV launches February 17th
Read More
| Capcom Blog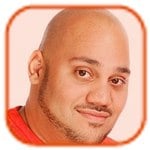 Posted by Andru Edwards Categories: CAPCOM, Downloadable Content, Fighting, Xbox 360, Xbox Live Arcade
Let's hope this is a sign that the game is close to release (hey, they said November!). Above you'll find the trailer for Street Fighter II Turbo HD Remix. While the music isn't quite what we would think would get people pumped for the game, you can't say that the graphics aren't off the hook. This one will be available on Xbox Live Arcade and the Playstation Store later this month. Who's with me on picking this one up the day it becomes available?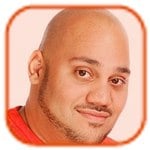 Posted by Andru Edwards Categories: Fighting, Nintendo DS, PlayStation 3, PSP, Square Enix, THQ, Xbox 360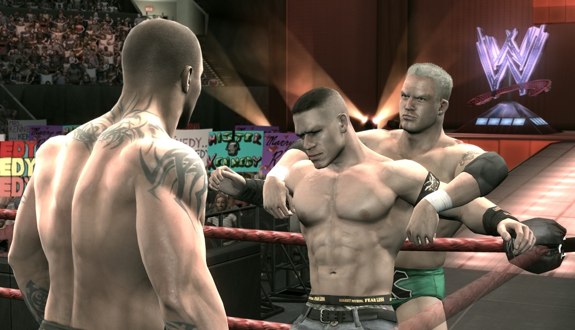 The next iteration of the WWE Smackdown vs. Raw series launches this Sunday, November 9th, titled Smackdown vs. Raw 2009 featuring ECW. Quite the mouthful, we know, especially considering how much of an afterthought ECW has become. Still, the game is popular and is on its way, and we figured we'd give you a look at the full roster of playable characters. Click on through for the list.
Click to continue reading Full list of Smackdown vs. Raw 2009 playable characters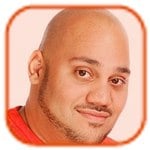 Posted by Andru Edwards Categories: Features, Fighting, Namco, PlayStation 3, PlayStation Network, Reviews, Xbox 360, Xbox Live

Here I am, about seven weeks after the launch of Soul Calibur IV, finally getting to bring you guys our thoughts on the game. Before we jump in, a bit of background on Soul Calibur IV. The game hit Xbox 360 and Playstation 3 on July 29 here in North America, followed by a release in Japan, Europe, and Australia on July 31, and then finally the UK on August 1.This is the fourth installment in the Soulcalibur series, and it features a Story mode, as well as Arcade, Training, Museum, and Tower of Lost Souls modes. That last one is new to the series, and rewards you, as the fighter, for winning special battles. Also new to the series is the inclusion of a few characters from the Star Wars universe - namely, Darth Vader, Yoda, and the Apprentice.
The game comes just about three years after the release of Soulcalibur III back in 2005, and is the first Soulcalibur title to feature online play. Now, on to our review.
Click to continue reading Soulcalibur IV review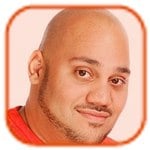 Posted by Andru Edwards Categories: Fighting, PlayStation 3, Xbox 360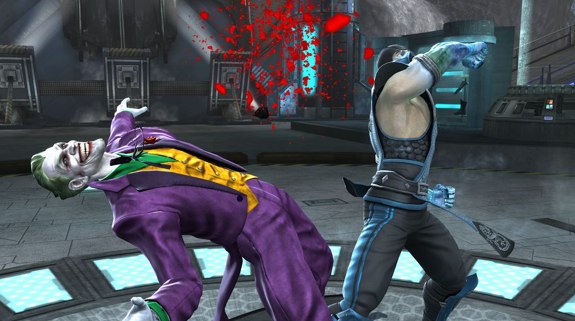 I've been looking forward to Mortal Kombat vs. DC Universe from the moment that I saw the original teaser, where Sub-Zero and Batman were beating the crap out of each other. Back at E3, we were able to get our hands on the title, and were even more impressed when we got to experience Superman, Scorpion, and The Flash. However, now we can happily report that the full roster of the game has been revealed. It's looking good:
Mortal Kombat side: Scorpion, Sub-Zero, Sonya, Jax, Shang Tsung, Shao Kahn, Liu Kang, Raiden, Kitana, Kano, Baraka
DC side: Batman, Superman, Catwoman, Green Lantern, The Joker, Shazam, The Flash, Wonder Woman, Deathstroke, Lex Luthor, Darkseid
So we get 11 characters from each side (and who knows if we will get any hidden surprises?), and in turn, we get some interesting combinations. Raiden vs The Flash? Lex Luthor vs. Kano? Good stuff. You can get your hands on the game when it hits retail stores on November 10 for Xbox 360 and PS3.
Oh, and for those fearing that the DC license might mean a watered-down Mortal Kombat experience, we've got a video of The Joker's fatality for you, after the break.
Click to continue reading Mortal Kombat vs. DC Universe: Complete roster revealed
Read More
| 1Up


Posted by Steve Van Neil Categories: Action, Fighting, Screenshots, Xbox 360
Wow, these came out of nowhere. Xbox Japan has posted the first screens of the highly anticipated Xbox 360 action sequel. Things have been so quiet on the game's development front that some of us were wondering if it was even happening. Well wonder no longer. Judging a game's graphical finesse on a handful of still shots is always a fool's errand, but I'll bite anyway. Ninja Gaiden 2 is looking nice…really nice. The game doesn't look like a monumental jump technically over Ninja Gaiden Sigma, but then remember the finesse and the still shots and the fool's errand thing. Itagaki's latest will surely be a thing of beauty in motion. For now, enjoy this little taste and expect to hear a lot more at this month's Tokyo Game Show. Oh, and hit the link for the rest of the screens, and gallons of arterial spray.
Read More
| NeoGAF


Posted by Steve Van Neil Categories: Action, CAPCOM, Fighting, PC, PlayStation 3, Trailers, Xbox 360
Capcom has just released a new trailer for its highly anticipated action game sequel. The clip runs about two minutes and contains no actual gameplay footage. Strangely, it does show cinematic footage of our hero Dante getting thrown, punched, and kicked in the face over and over again in what appears to be a training exercise. Devil May Cry 4 hits next year, with this and lots of other bits of weirdness, on PS3, Xbox 360, and PC.
Read More
| Capcom


Posted by Chris Pereira Categories: Action, Fighting, Strategy, Xbox 360, Xbox Live, Xbox Live Arcade
Another week with a dual release of Xbox Live Arcade games, and we've certainly got at least one solid title here. Bomberman is the classic you know and love, and for 800 Microsoft Points ($10) you get Xbox Live multiplayer support – that right there should be enough to earn your points. And the other Arcade release, Yie Ar Kung-Fu, is probably a game you've probably never heard of, but is only $5 and you've got Live multiplayer – give the trial a shot before you outright dismiss it.

Posted by Chris Pereira Categories: Action, Activision, Adventure, CAPCOM, Driving, Eidos, Electronic Arts, Fighting, First Person Shooters, Microsoft, Namco, Puzzle, Role Playing Games, SEGA, Simulation, Sports, Survival Horror, Third Person Shooters, THQ, Ubisoft, Xbox, Xbox 360, Xbox Live
It's about time – finally, Xbox 360 owners who weren't fortunate enough to play The Elder Scrolls III: Morrowind on Xbox or PC can now do so on Xbox 360. The update brings the total number of back compat Xbox games to over 300. And all games are upscaled, so those who have been waiting to play NBA Live 2002 in 720p or 1080i can now do so.
Updated:
Crash Bandicoot 5: Wrath of Cortex
Jet Set Radio Future
Rogue Ops
Sega GT 2002
Check out the new games after the break.
Click to continue reading Morrowind Headlines New List Of Backwards Compatible Xbox Games On Xbox 360
© Gear Live Media, LLC. 2007 – User-posted content, unless source is quoted, is licensed under a Creative Commons Public Domain License. Gear Live graphics, logos, designs, page headers, button icons, videos, articles, blogs, forums, scripts and other service names are the trademarks of Gear Live Inc.